Anand Panyarachun was born on 9 August 1932 in Bangkok, the youngest of twelve children of the family of Maha Ammat Tri Phya Prichanusat (Sern Panyarachun) and Khunying Prichanusat (Pruek Chotikasathien).
Phya Prichanusat received his early education in Thailand and won a King's scholarship after completion of his secondary school education. He was sent to Shrewsbury School in Shropshire, England, after which he entered Manchester University.
Phya Prichanusat started his career in Thailand's Ministry of Education, where he assumed various teaching roles. He became Headmaster of Vajiravudh College, a school which was modelled after the English public school system. In the course of his career, Phya Prichanusat was apppointed to the highest civil service post, namely Permanent Secretary of the Ministry of Education.
Soon after Thailand was transformed into a constitutional monarchy in 1932, Phya Prichanusat left the civil service to set up a publishing business with a group of colleagues. The company he founded, namely the Siam Commercial Company Limited, published newspapers in Thai, Chinese and English. Phya Prichanusat served as the Editor of The Siam Chronicle, which today, under a new ownership, is known as The Bangkok Post. His career in publishing was further distinguished by his becoming the founder and first President of the Press Association of Thailand.
Apart from his journalistic accomplishments, Phya Prichanusat also was the first non-Christian President of the Young Men's Christian Association (YMCA), and was instrumental in founding the first school for the blind in Thailand.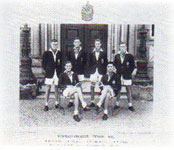 As the youngest son of Phya Prichanusat, Anand Panyarachun's early education was at Surasak School, after which he proceeded to Amnuaysilp School and Bangkok Christian College for his secondary school education. In 1948, Anand was sent to Dulwich College in London at the age of 16 years. While at Dulwich, he became both a House Prefect and a School Prefect. He was a member of the School Choir, the Squash Team, and served as Captain of the School Tennis Team, which had an unbeaten record in 1951.
After leaving Dulwich in 1952, Anand entered Trinity College, University of Cambridge, where he read Economics and Law. He graduated in 1955 with honours. At Cambridge University, he also was a member of the squash and tennis teams for Trinity College.
After completing his education in 1955, Anand joined Thailand's Ministry of Foreign Affairs. In 1958, he was appointed as Secretary to the Foreign Minister (H.E. Dr. Thanat Khoman). He was subsequently assigned to the Permanent Mission of Thailand to the United Nations in 1964 and was promoted to an Ambassadorial ranking in 1967 as Acting Permanent Representative of Thailand to the United Nations and concurrently as Ambassador of Thailand to Canada. In 1972, he was reassigned as Thailand's Ambassador to the United States and, concurrently, as Thailand's Permanent Representative to the United Nations. His tenure with the United Nations was for a continuous period of 12 years from 1964 to 1976.
In January 1976, Anand was promoted to the highest civil service ranking as Permanent Secretary of the Ministry of Foreign Affairs of Thailand. In that position, he was instrumental in the implementation of the Thai Government's foreign policy of adjustment to the new geopolitical landscape. Anand assumed a leadership role in negotiations with the U.S. Government on the eventual withdrawal of U.S. troops from Thailand. He also was catalytic in leading efforts for the resumption in 1976 of diplomatic relations with three socialist countries, namely China, Laos and Vietnam.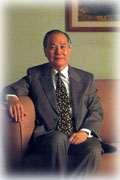 After the tumultous events of 6 October 1976, Thailand experienced a military backlash and the return of a military-led authoritarian rightist government. As a result, Anand became the victim of a rightist conspiracy. He was wrongly accused of being a communist, which was considered at that time to be a criminal charge, and was suspended from his position as Permanent Secretary on those bogus allegations. A civil service panel was set up to investigate the allegations. On the basis of the evidence presented and testimonies given by witnesses, the panel found the charges to be totally unsubstantiated and absolved Anand of any wrongdoing.
Anand was thus reinstated into the Ministry of Foreign Affairs, and was assigned to Bonn as Thailand's Ambassador to the Federal Republic of Germany. After serving for one year, he decided to retire in 1979 from the Ministry of Foreign Affairs, thus ending an illustrious career of twenty-three years in the Thai foreign service.
Anand started his second profession in 1979 in the private sector with the Saha-Union Group, where he assumed the position of Vice-Chairman and Director of several of its subsidiary companies. In 1991, Anand was elected Chairman of the Board of Directors of the Saha-Union Group.
During his business career, Anand was actively involved in the work of the ASEAN Chambers of Commerce and Industry. He headed an ASEAN Task Force during 1982-1983, which charted the course of ASEAN economic cooperation.
Anand was also elected Chairman of the Federation of Thai Industries in 1990 after serving as Vice-Chairman from 1988 to 1990. In addition, he served as a Director of Sime Darby Berhad from 1982 to 1998, and a Director of the Siam Commercial Bank from 1984 to present day.
Following the military take-over in February 1991, Anand was invited to serve as Prime Minister of Thailand in March 1991. While reluctant to assume that political position in the aftermath of the extra-constitutional process, Anand was convinced that by assuming the position, he could help lead Thailand back to the path of democracy.
Anand wanted to minimize the damage inflicted on Thailand's democratic process, and reverse the practice of militarization of politics in the country. He further believed he could successfully establish a civilian-dominated government, which could ensure a smooth and peaceful transition to an open society, institute much needed economic and social reforms, and promote a more transparent and accountable system of governance in Thailand.
He succeeded in most of what he aspired to do. His Government initiated reforms in several key sectors of the Thai economy, including tax and trade regimes, industrial restructuring, environmental management, educational and health services. For the latter, Anand was the first Asian leader to recognize HIV/AIDS as a major development challenge and to mount a nation-wide program in 1991 to combat the epidemic in Thailand. As a result, Thailand was able to significantly reduce the number of HIV infections due to the effective HIV prevention program instituted by the Anand Government.
Anand's earlier work at the ASEAN Chambers of Commerce and Industry to promote regional economic cooperation provided a basis for the blueprint of the ASEAN Free Trade Area (AFTA), which Anand proposed during his tenure as Prime Minister of Thailand. AFTA, proposed by Thailand, was subsequently endorsed at the 1991 ASEAN Summit, held in Singapore, which Anand attended as Head of Government.
Anand's Government organized free and fair general elections in May 1992 to return democratic rule to the Thai people. After those elections, problems arose in the Parliamentary selection of the Prime Minister, who was generally perceived by the public as being a legacy of the discredited military clique.
Trouble spilled into the streets; protests and public demonstrations ensued. There was an attempted military suppression resulting in violence and loss of life. Chaos reigned and anarchy threatened to break out. His Majesty the King made a timely intervention and judiciously restored peace and harmony.
Anand was nominated by the President of the Parliament to again assume the Prime Ministership for the second time. His nomination, was widely welcomed by the public, and was endorsed by Royal Proclamation on 10 June 1992.
Anand's mandate was to ensure the continuation of peace and order, and to hold new general elections in the near future. His second tenure lasted four months during which he facilitated a nation-wide healing process. Anand helped to ensure that justice was served by holding a number of generals accountable for the May 1991 suppression through removing them from their command positions. After the general elections in September of that year, Anand retired from politics in October and rejoined the Saha-Union Group as Chairman.
In October 1992, Anand resumed his business career but continued his public service work in a personal capacity. He has been called upon to assist successive civilian governments in the areas of economic and social policies, human rights and governance.
In 1997, Anand was elected as a member of the Constitution Drafting Assembly and was appointed Chairman of the Drafting Committee. He oversaw the drafting of the Constitution, which was completed within the prescribed time of 240 days, and approved after intensive debate by the National Assembly. The approved text of the Constitution was then submitted to His Majesty the King for His Royal assent and promulgated as the new Constitution of the Kingdom of Thailand on 11 October 1997.
In August 1997, Anand received another distinction by being conferred the 1997 Ramon Magsaysay Award for Government Service.
His interest and activities in the fields of education and the environment include Chairmanship of the Cambridge Thai Foundation, Thailand Development Research Institute (TDRI), the Council of Trustees of Thailand Environment Institute (TEI), the Council of Asian University of Science and Technology (AUST), the Board of Trustees of the Asian Institute of Technology (AIT), Kenan Institute Asia and Honorary International Advisor to the Governors of Dulwich College, London.
He is currently a member of the International Advisory Board of American International Group (AIG), Unocal Asia Pacific Ventures, the Carlyle Group and Toyota Motor Corporation. He is also Regional Advisor of General Electric (GE).
Anand was in 2001 elected Chairman of the National Economic and Social Advisory Council for a term of 3 years.
In the international arena, Anand is a trustee of U Thant Institute, the chairman of the Steering Committee of Asia Pacific Leadership Forum on HIV/AIDS and Development (APLF), a member of the Advisory Group of Anti-Corruption Issues for the East Asia and Pacific Region - World Bank and the Advisory Council of Transparency International (TI). He has also served as UNICEF Ambassador for Thailand since 1996.
In November 2003, UN Secretary–General Kofi Annan appointed Anand Chairman of a group of eminent persons to serve on his High-Level Panel on Threats, Challenges and Change which is to examine the major threats and challenges the world faces in peace and security and make recommendations for the elements of a collective response. The Panel is expected to submit its report to the Secretary–General on December 1, 2004.
During the course of five decades of his working life, Anand has been recognized both internationally and nationally for his dedication and work for the advancement of Thai society. He is the recipient of twenty honorary degrees from universities in Thailand, Canada, Hong Kong and Japan.
Anand has also been awarded a number of decorations, both Thai and foreign, including The Royal Cypher Medal (Third Class) ; Knight Grand Cordon (Special Class) of the Most Noble Order of the Crown of Thailand ; Knight Grand Cordon (Special Class) of the Most Exalted Order of the White Elephant; Knight Grand Commander (Second Class, higher grade) of the Most Illustrious Order of Chula Chom Klao; Order of Diplomatic Service Merit (First Class), Republic of Korea; Ringtang Jasa (First Class), Indonesia; Grand Officier de L'order de la Couronne (Second Class), Belgium; Grand Cordon of the Order of the Rising Sun, Japan; Honorary Knight Commander of the Civil Division of the Most Excellent Order of the British Empire (KBE), United Kingdom.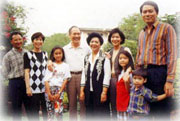 Anand is married to M.R. Sodsee Chakrabandh. They have two daughters - Nanda and Daranee, and three grandchildren - Tippanan, daughter of Nanda and Kraithip Krairiksh, and Sirinda and Tanawin, daughter and son respectively of Daranee and Chatchawin Charoen-Rajapark.
A Thai-language account of Anand Panyarachun's life and career can be found in the biography Anand Panyarachun: Chiwit khwamkhit lae kan-ngan khong adit nayokratthamontri song samai, authored by Prasarn Maruekpitak and colleagues and published by Amarin Printing and Publishing Public Company Limited.
For full biographical data, please press here.